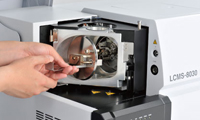 Your satisfaction is our motivation!

We are Shimadzu Malaysia Service experts focused on customer care.

- Trained and certified according to Shimadzu High Quality Standards
- Educated with "Hands on Training" and Theory in our Training Centers
- Access to Technical Database for on-going Learning and Updates

Anywhere, anytime we are at your service to make sure that you achieve results you can rely on.
MEDICAL SYSTEMS TECHNICAL SERVICE & SUPPORT
It has been always our priority to assure our support meet your clinical needs.
Our sales support team are always ready to serve you with your clinical needs. Our well-trained team help you to maintain your systems in exam-ready condition, and to keep your system up to date.

Medical System Services team during installation on-site
ANALYTICAL AND MEASURING INSTRUMENTS TECHNICAL SERVICE & SUPPORT
Our comprehensive technical service is staffed by a team of qualified engineers to provide complete service packages to support a wide range of equipment distributed and sold by Shimadzu. Our manufacturer trained and dedicated team of service engineers are committed to providing quality service to all our customers in Malaysia.
Our comprehensive services cover:
Installation and Commissioning
IQ/OQ/PQ Validation
On-site and Workshop Repair
Instrument Verification and Calibration
Spare Parts Support
Equipment Inspection & Relocation
Operation & Maintenance Training
Service Plan